Longi Solar panels
Hi-MO 4m
Multi-size Design
Standardised width, choice of three different lengths, full utilisation of limited roof area, realising the maximum installed capacity
Gallium-doped Technology

Gallium-doped technology overcomes the LID degradation and guarantees the long-term power generation stability of the module

Half Cell
The power of half-cell module increases, and the hot spot temperature reduces because of lower working current

Electrically Compatible
Operating current lower than 11A; applications in all DG projects; matches with various inverters and optimisers; avoids high wiring loss

MBB Design
9BB design further improves current collection capability
Installation Compatible
Flexible installation, including pitched roof, flat and angular roof and flat roof with herringbone detail

Power Warranty

1st year degradation <2%, linear degradation <0.55%/year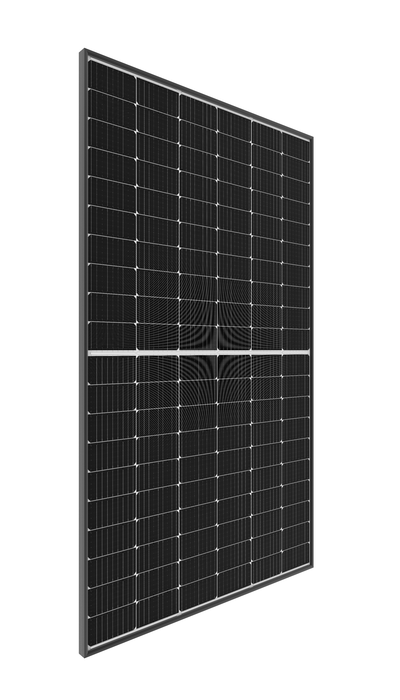 Diversified Product Types
Covering multiple application scenarios
All-round Design Service
All-round service for selection, exploration and design

24/7 After sales service
Escort your power station around the clock
Excellent Product Performace
High power, high energy yield, high reliability
Deep System Matching
Perfectly match conventional roof structure, compatible with mainstream inverter and bracket type.
Professional Technical service
Professional technical design and service team, 24/7 hours after-sales response
Longi Solar Panels Half Cut Technology
On April 29, 2019 LONGi announced that the front side power of its 72-cell Bifacial half cut module exceeded 450W, achieving the world's highest power in this module type. This new record was tested and verified by renowned certification agency TÜV-SÜD.

"LONGi monocrystalline half-cell module combines monocrystalline PERC cell technology and bifacial half-cell module construction to effectively reduce package loss and increase average output by 5-10W. Half-cell has obvious advantages in power generation under weak light and shadow conditions and excellent heat spot resistance. This new record in module power is another step in our innovative breakthrough and journey."

Dr. Lv Jun, Vice President of LONGi Solar
"Half-cut" solar technology refers to the solar cell being separated into two parts, cut by a mature infrared laser. The effect of this is to halve the required working current, increasing the power of the module while reducing its thermal (heat) loss.
Cutting solar cells in half results in half the current and double the voltage. Solar modules with double the voltage would not be advantageous, as the higher string voltage would result in half the amount of modules that can be connected per string to the inverter. As such, most manufacturers adopt a string layout to produce voltages similar to standard solar modules.


The benefits of Half-Cut solar cell technology include:
Higher Efficiency:

when a solar cell is cut in half, the amount of electrical current that is carried by each busbar is also reduced by half. This decrease in resistance within the busbars causes an overall increase in its efficiency. For the LONGi system, this equates to a power increase in the module of 2%. This is significant.
Lower Hot Spot Temperature:

hot spots in the module can cause irreversible damage to the cells. Reduction of hot spot temperatures of between 10-20°C improves the reliability of the module.

Lower Operating Temperature:

reduces thermal loss and improves both module reliability and power gain.

Lower Shading Loss:

half-cut modules can still achieve 50% power output during shading, including sunrise and sunset conditions.
LONGi offers a 12-year product warranty for materials and processing applied Hi-MO4 and Hi-MO4m range, a 25-year performance warranty for extra linear power output with the Hi-MO4m and 30-year performance warranty for the Hi-MO4 double glass series.