How does Solar Hot Water work?
To create hot water for your home, solar hot water systems use solar collectors to absorb energy from the sun. These solar collectors are either flat panels or evacuated tubes usually located on the roof of your home and facing north for best positioning and effectiveness. When water passes through this system it heats up, and then the hot water is stored in an insulated tank for when you need it.
On the days when hot water usage is higher than usual and the temperature of the water falls below the thermostat setting, your hot water system may need a boost. When the water again reaches the required temperature, the thermostat will automatically switch off.
Switching from an electric to a solar hot water system should bring savings to your electricity bill, with most households using approximately 25-30% of the total electricity bill just on heating water.
Contact us now and receive your free site inspection and quote!
German Tech Solar Hot Water Systems
German Tech is endorsed by the Federal Government for its high efficiency.
The German Tech System, designed for European cloudy weather, encompasses a thermal blanket within the heating plates that keeps on heating your hot water even in cloudy weather.
Sun, Rain, Cloud or shine – you cannot lose with German Tech.
The Thermosiphon with a stainless-steel tank and the split system with a ceramic tank, both have 2 x solar collector plates which are thermally enhanced, or evacuated tube systems for frost prone areas.
The Federal Government actually endorses this statement by its testing of Solar Hot Water systems and allocating the German Tech approximately 27% more government grant rebates than 5 other big brands.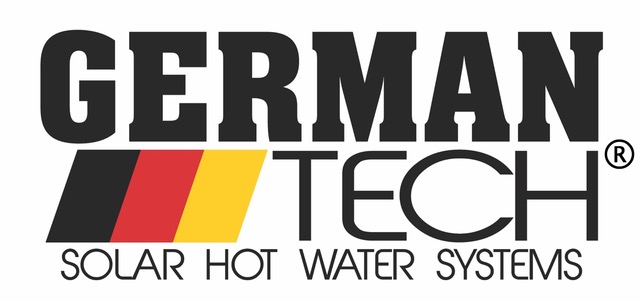 Solar hot water panels need radiant heat from the sun – but when a cloud comes over, the radiant heat diminishes. Cloudy weather is common in Germany, so the Germans developed a panel that maximises solar radiation and retains it – this is great for unpredictable Australian weather too.
What is the Difference in Solar Collectors?
Flat Plate Solar Collector
Flat plate collectors work on copper pipes running through a glass covered collector, often connected to a water storage tank on the roof. The sun heats the copper pipes and the resulting hot water is thermo-siphoned out of storage tank.
Evacuated Tube Solar Collector
More efficient & great for frost prone areas
Evacuated tubes consist of two glass tubes fused at the top and bottom. The space between the two tubes is evacuated to form a vacuum. A copper pipe runs through the centre of the tube and meets a common manifold. The manifold is connected to a slow flow circulation pump that pumps water to a storage tank below, thus heating the water during the day. The hot water can be used at night or the next day due to the insulation of the tank.