Want to minimise your aircon costs this summer?
As the hot weather approaches, your aircon usage will begin to increase, along with your electricity bills. Minimise your aircon costs with these tips that keep you cool whilst saving you money on electricity bills
Make sure your aircon is only running when it is needed. There's no point using electricity to cool an empty home. Secondly, why not save energy and minimise costs by taking advantage of the cooler evening air? Open up some windows and welcome the gentle breeze to help cool things down.
If you're trying to reduce your energy use, setting your thermostat to just one degree higher will help your aircon use less power. For every degree of cooling you can do without, you're saving on your energy bill costs! 
If your aircon vents are dirty and clogged up, it will be using more power. Therefore, ensuring your aircon system is being regularly maintained to reduce dirty vents and blocks airflow will help minimise your costs.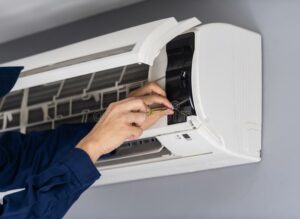 Be mindful of peak time usage
As people return home from work, the grid power usage spikes, making your aircon costs more expensive to run during this time. If you're able to avoid using your system during peak times, you could be saving money.
Other easy ways to minimise your aircon costs
Firstly, you should aim to prevent your home from gaining heat during the day by closing curtains and blinds. Heat absorption can be drastically reduced by having tinted windows to stop the suns heat. This will decrease the workload on your aircon when it is turned on. 
Secondly, you won't be getting the most out of your air-conditioning if your let all that cool air get away. Keep cold air in by closing curtains, blinds and doors to only cool the rooms you are using. Therefore, your aircon unit won't have to work so hard, keeping your aircon costs to a minimum. 
Switching off household appliance that emit loads of heat. For example, the television, computer, printer and lights should be switched off if they aren't being used. Additionally, reducing oven use by opting for a cooler meal or cooking outside on the BBQ could be another way to reduce the house's temperature. 
Go solar to reduce your powerbills
Lastly, having a solar power system on your house will help reduce your air-conditioning costs throughout the day. If you're interested in solar power and want to talk to one of our experienced team members at All Energy HQ, contact us today on (07) 5438 7200 or email Sales@AllEnergyHQ.com.au